Goal: Rank a website in top 3 results organically as quick as possible to capitalize on a specific trend and make a buck.
Keyword: 6000+ monthly searches for main keyword. Secondary keywords also up there.
Difficulty: SerpIQ gave this a score of 45/100.
Domain: Exact match domain (www.keyword.com) registered on 8/28/2012. To my surprise it was originally registered in 2008 and was left to expire. So it has some age.
Platform: WordPress and using stock Twenty Eleven theme but modified.
Plugins: All In One SEO Pack. Google XML Sitemaps. Plus a few others that aren't important in ranking.
Content: Unique. A few pages in total.
On Page SEO: Using basic on-page SEO best practices and the fundamentals with help from All in One SEO plugin.
Off Page SEO: Social bookmarks, blog posts, directories, private blog network. Over 1000+ total. Anchor text heavily weighted towards main keyword.
Results:
Ranking – Hit #1 on 23rd. Typical Google dance along the way. Live graph viewable here.

Traffic – Jump in visitor traffic from 2-1 or even 3-1 is more than double.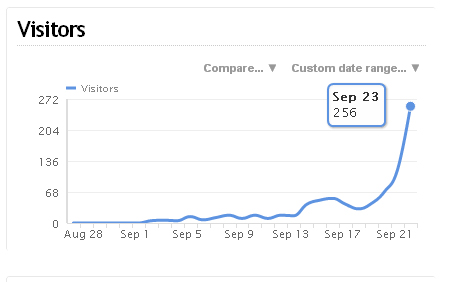 Total Time – Domain registered on 8/28. Site done on 9/4. Links dripped 9/7-10. #1 ranking on 9/23. So ~3 weeks. Not bad
Thoughts: EMD + age = Win. Links still matter but diversify platform. Will average ~200+ visitors a day if sustained.